YOGA'S HEALING POWER
Looking Inward for Change, Growth, and Peace
Ally's book is coming out on August 8, 2016. It goes hand-in-hand with the core Yogis Anonymous mission: to provide a set of tools to live the yogic philosophy in the modern world, bringing difficult concepts into focus in terms that we can all understand and apply to our everyday lives.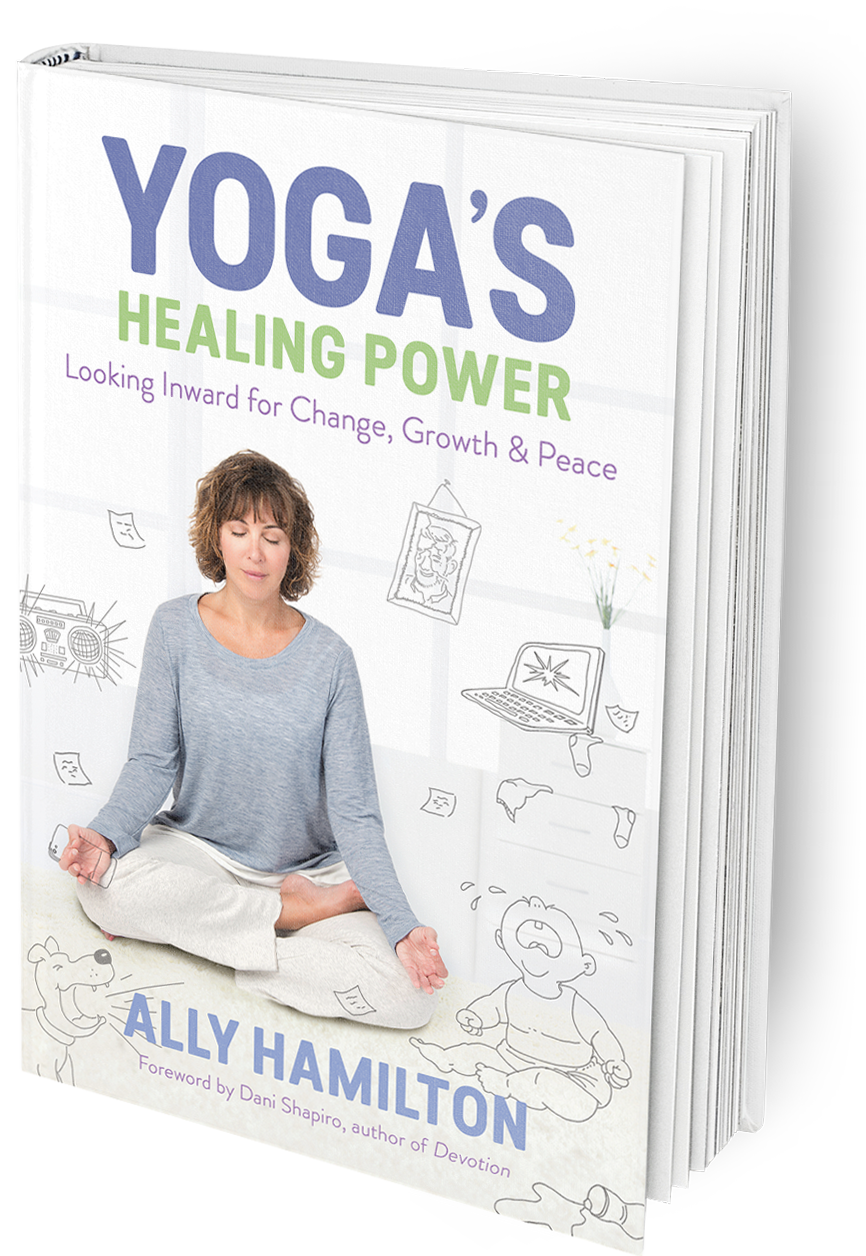 HOLISTIC WISDOM FOR SUSTAINED PEACE
Ally Hamilton changed her life with the eight limbs of yoga, a spiritual tradition first recorded in the Yoga Sutras 1,600 years ago. Join Ally as she shows you how to apply the wisdom of this honored tradition to your modern-day life.
Physical poses―asanas―are the best-known aspects of yoga, but in the eight limbs practice, healing comes through exploring your relationship to the world and to yourself while learning to recognize the obstacles that block your path. Yoga's Healing Power shows how to create the life you want from the inside out, working with your mind and emotions, your body and breath, your memories and your pain. With hands-on exercises, meditations, journaling prompts, and stories of healing, this book helps you uncover your particular gifts and begin to feel joy.
Reviews
Dani Shapiro

Bestselling author of Still Writing, Devotion, and Slow Motion

I haven't read anything quite like this wonderful little book.

Greg Louganis

Four-time Olympic gold medalist

Yoga and life are journeys, and this book is a wonderful guide along the path!

Kathryn Budig

Author of Aim True

Ally is really onto something fantastic with Yoga's Healing Power. . . . We're not talking just physical yoga; this is yoga as a way of life.

Claire Bidwell Smith

Author of The Rules of Inheritance

I was deeply humbled and greatly inspired by Ally Hamilton's courageous take on life, love, loss, and surrender.
UPCOMING BOOK LAUNCH EVENTS
Be the first to meet the author. Request a ticket to one of our premiere events around the United States.
Stay tuned for more event listings. Private, corporate and community events can be arranged and organizers are encouraged to contact us.
You'll also get with the book:

Pathway to Peace Coaching Program
A Five-Week Journey to Healing and Happiness
During this five-week course, you will:
Participate in a weekly one-hour video webinar with Ally Hamilton including a 30-minute Q&A session. Each week features a different topic relating to healing and self-development. The topics: The Relationship You're Having With Yourself - The Relationship You're Having With Others - Anger, Betrayal, and Taking Things Personally - Old Wounds and Current Problems - The Path to Peace and Happiness.
Receive step-by-step worksheet materials corresponding to each week's topic to guide you through your own personalized process of discovery, growth, and change.
Receive 3 exclusive downloadable yoga and meditation video classes designed around each topic of the week. With these 15 carefully constructed classes led by Ally, you will effect maximum change in your life by getting into your body and working these concepts from the inside out. They're yours to keep - go back and revisit them frequently.
Learn Ally's tools to help you deal with anxiety, depression, anger, grief, loss and all of life's more difficult emotions.
Develop a healthier relationship with your body using the included video classes as well as the thousands of video classes available to you as part of your unlimited one-year subscription to Yogis Anonymous.
Develop and sustain a physical and spiritual practice that will strengthen, nurture, and support you throughout the duration of this course and beyond.
Receive unlimited on-demand access to the recorded webinar calls so you won't miss anything -- and you can replay them if you need to. The first live call starts at 11:30AM Pacific on Tuesday August 23, 2016 and recurs weekly at the same time through September 20.
Buy the book, one-year yogisanonymous.com subscription and the coaching program for $495
or choose from other options below.
The book only

Kindle $12, Paperback $13.90, Audio $19.99

The book
One-year subscription to yogisanonymous.com
Pathway To Peace Coaching Program

Buy the book

The book with subscription

$155

The book
One-year subscription to yogisanonymous.com
Pathway To Peace Coaching Program

Buy this

Complete YOGA'S HEALING POWER

$495

The book
One-year subscription to yogisanonymous.com

Buy it all
FUTURE BOOK LAUNCH EVENTS
Be the first to know about an event in your city.